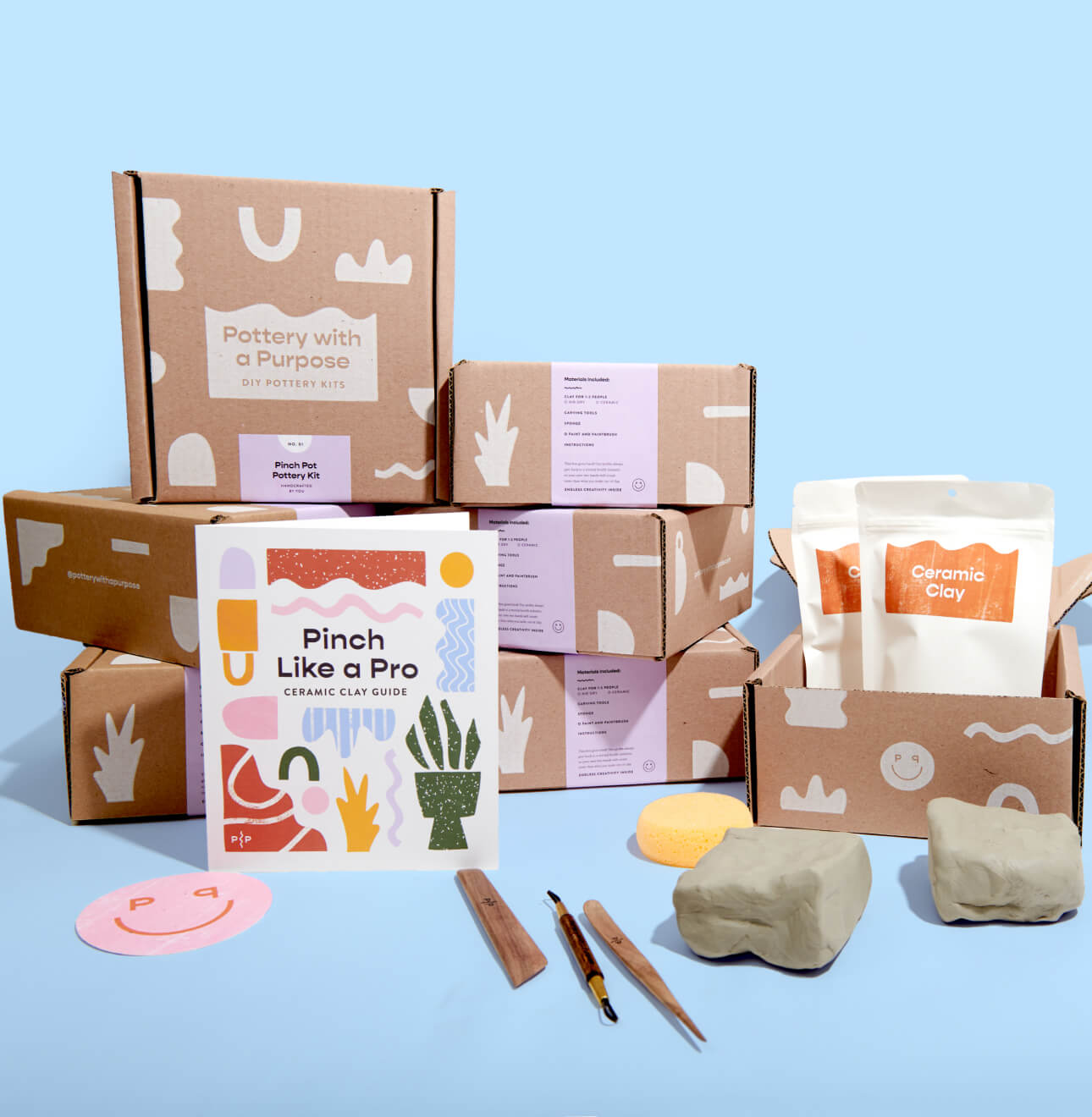 Clays well with others
Host a Team Event
Break the mold of same ol' same ol' event planning with a new type of corporate wellness activity. Share the joy of creativity + stress-relief alongside coworkers with a Pottery with a Purpose team pottery workshop.
Customize your event with themed or custom-branded kits, a live Virtual tutorial from Pottery with a Purpose creator Sam Hoff - and more!
How team events are better with clay
Spark stress-free creativity
Experience a stress-relieving activity with friends, family, or coworkers that sparks creativity + social connection
Enjoy tech-free fun
Use your hands for more than scrolling a screen - create a lasting piece of pottery you'll cherish for years to come
Learn Together
Embrace the delightful challenge of learning something new alongside others… it may be just the start of a lasting hobby!
Eco-Conscious Clay Play
Each kit is vegan, USA made + packaging is 100% recyclable or compostable for an event that your company + employees can feel good about
How It Works
Personalize it
Event Ideas
How It Works
Select a curated kit from our collection or request a customized box tailored to your specific group or occasion - we can ship to individual addresses or to one event location. Facilitate your own private event or book a live 1-1.5 hour virtual tutorial from Pottery with a Purpose founder Sam Hoff, where you'll each create two original pieces (with clay leftover to use at home!)
Personalize it
We're happy to accommodate a variety of requests to make your event more personal, such as a custom clay stamp or a themed kit (holiday, event, or special interest). Looking to create a specific item? Let us know! We can whip up a kit and/or tutorial with customized instructions. Make your corporate event even more memorable with co-branded kits featuring a custom sleeve.
Event Ideas
Our kits make a memorable addition to any group gathering, including bachelorette parties, bridal showers, baby showers, birthdays, and corporate events! A few fun ways to introduce clay play: break into groups and get crafty, collaborate on a group sculpture, or gift kits to employees and clients. Let the creativity begin!