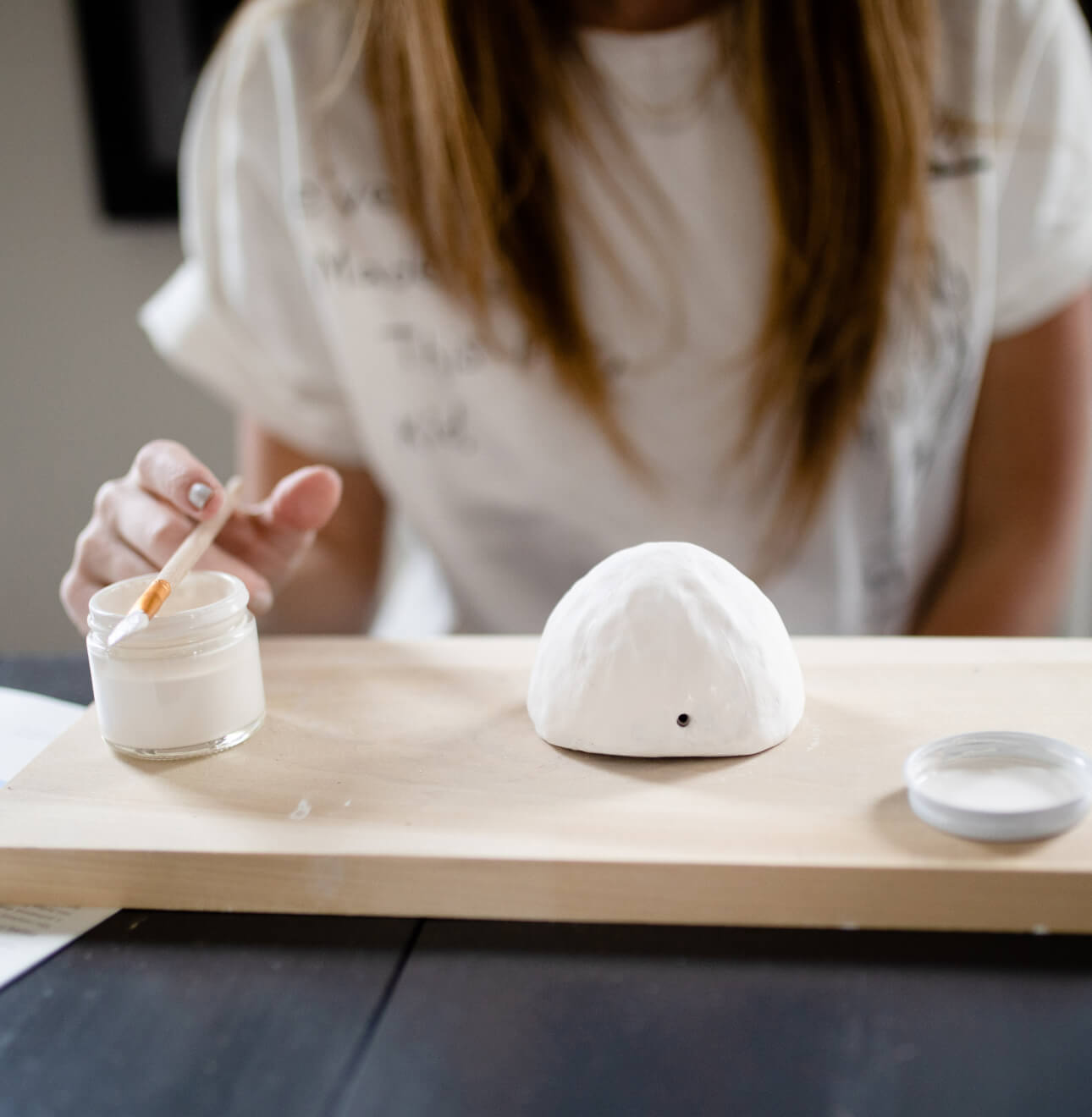 Make (Greater) Good
A More Sustainable DIY Experience
We aim to provide a more eco-friendly way to DIY, so you can feel great about your experience from purchase to finished piece. Keep reading to discover more about the consciously-sourced materials in every curated kit and learn how to dispose of or upcycle your packaging after the creative work is done.
Consciously Curated, Thoughtfully Packaged
Made in the USA
Our premium clay, pro sculpting tools, box packaging + labels are made in the USA to preserve the Earth + sustain local economies
Proudly Plastic-Free
Our packaging is free of new single-use plastic + we work with our suppliers so their shipments to us arrive plastic-free
A Better Brush
Our cruelty-free paint brushes from are made with vegan bristles + a natural bamboo handle
Value Over Volume
A few quality, durable handmade tools crafted by artisans (rather than several cheaply made ones) is better for you + the Earth
Recyling Guide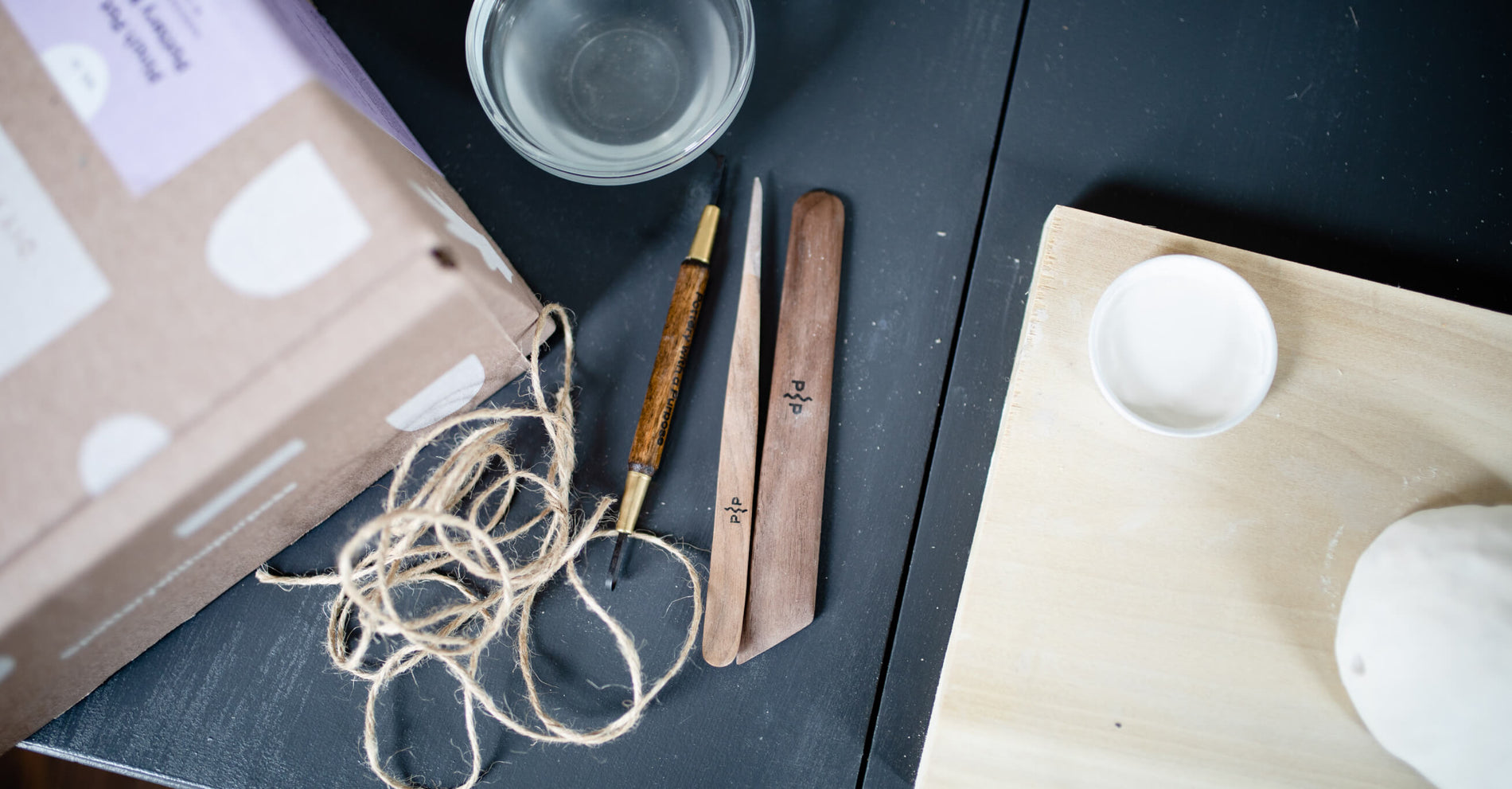 Box + Stickers
Our box is made from 100% recycled content (95% post-consumer waste) printed with water-based HydroSoy ink and is curbside recyclable, compostable, or reusable in a variety of ways. Our zero-waste stickers, labels + liners are made from 100% post-consumer waste printed with water-based ink and recycle-compatible adhesive. They are also curbside recyclable.
Clay Bag + Plastic Wrap
Our clay bags are made from 100% certified commercially compostable materials. Our plastic wrap is sourced through a "Buy Nothing Group." This #4 plastic film generally isn't curbside recyclable, so we give it a second life. Keep the good going by reusing it in future clay projects or as a potted plant liner. Want to recycle the wrap? Visit the Drop-off Directory to find a spot near you.
Instruction Guide
Our instruction guide is printed with low-VOC ink on 100% FSC recycled paper (post-consumer waste that requires no new tree cutting + uses less water than regular paper). It is also Ecologo, chlorine-free, bio gas energy, and Ancient Forest Friendly, created by a B-Corp vendor who relies on carbon neutral shipping. Finished guide is curbside recyclable + compostable (recycling is preferable).
Hemp Twine + Tape
Our 100% natural hemp twine is biodegradable + compostable. Use to create a hanging planter, wall hanging, or to string clay beads. Our tape is plant-based, renewable + biodegradable.
Thank You Coaster
Our Earth-inspired thank you gift (included in each kit) is handmade from plantable paper embedded with wildflower seeds + printed using water-based ink.
Biodegradable Sponge
Our sponges are plastic-free and 100% natural. Made from wood fiber, they are less toxic to manufacture than plastic sponges + they degrade in landfills.
Start your membership now: get up to 25% off kits + new releases delivered to your doorstep every 3 months auto-magically - PLUS access members-only perks!